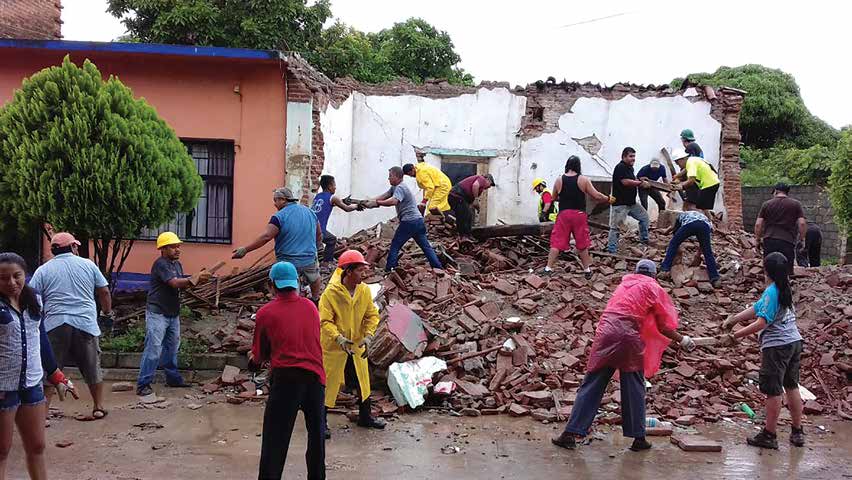 This September, the adjoining state of Oaxaca suffered two devastating earthquakes on the western side of the state. There were no communications with the outside world and when finally there was contact, the extent of the damage was seen. Two days later, an injured family told us that help had not arrived in their community. That's when our adventure began.
The youth of the chapel choir, Christian Family Movement, and myself knocked on each door of Mapachapa, Veracruz where we live, asking for food and other supplies. We encountered very generous people. We also set a table outside the chapel asking for any type of help. A homeless man came, took an orange from his pocket, left it on the table and went on his way. There was also a person selling religious articles and joyfully he donated the most expensive rosary he had. Our convent house became a collection center. We loaded everything into vans.
The next day 15 missionaries traveled to Union Hidalgo, Oaxaca even though we knew that other caravans had been assaulted and robbed. We encountered bridges out and roads impassable yet thanks be to God we got through to the needy without major problems.
When we arrived at the first village community we saw the terrible damage: rubble, houses split in half, mud all over from the continuing rains and people begging for food. While we were there, three times we experienced tremors of different magnitudes.
We delivered the food supplies to the most vulnerable. My personal greeting was a silent hug and then the people began telling me their courageous testimonies.
A wise old man of more than 84 years:
He was lying with a bandana on his head to mitigate his pain. He lives alone, is blind and has only one leg. When I greeted him, he answered me in Zapotec, and, despite his circumstances, he praised God because his neighbors had saved his life, offered him a cot and cared for him with love. He told me that life is very beautiful and has its difficult times. I was exhausted, so I asked for his blessing to continue our mission. He told us that God is so good, that God has sent us to this place to do good and never forget it.
A married man told us his story:
Before getting married we had the dream of having our own house and so we placed each brick with love and sacrifice. We respected each other and in all things, we have been united. We lived for many years with the hope of having children and finally, God granted us a daughter. We were so happy that we painted the walls of the little house and watched her grow up with many beautiful memories. Our house was sacred. At the end, he ended his story by saying: We are old now, our house collapsed but our love remains firm.
I cannot share the experiences of those who saw their loved ones die under the rubble as it is so painful, deep and sacred what is in their hearts. On our way back we took a different route and passed through Ixtaltepec, Oaxaca. There we found a small village that was inaccessible due to the conditions of the road and weather. There was the danger that the river would overflow at any minute. Therefore, no supplies, including food, had yet arrived.
Our dream is to return there before Christmas because the needs continue. We appreciate your prayers.